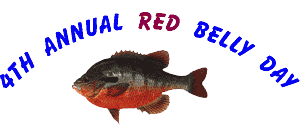 Red Belly Day is a celebration of Spring on the Suwannee River. In 1999, it will be held on Saturday, May 29th from 9am 'til 6:30pm at the Fanning Springs State Recreational Area on US Highway 19 in Fanning Springs, FL.

A Red Belly is a fish that lives in the Suwannee River and is a member of the Bream family. People from north of Georgia call it a Red Breasted Sun Fish. Scientists call it Lepornis Auritus. Natives call it Red Belly. It's been the main course at countless pow wows, picnics, church dinners and fish fry's since man first came to settle this area.

Red Belly Day is a family oriented event and we do our best to offer something to everybody:
80-100 craft & information booths.
2 Day Red Belly Fishing Contest
Belly Flop & Melon Chunkin'
Saltwater Fishing Seminar
Free Kiddie Train Rides - all day
Casting Contest, Dunking Booth
Sack Race & Rug Rat Race
Babe Booth (guess pig's weight)
Continuous Country Music Show
Food Booths
Don't forget, your one admission price includes all day long country music entertainment!

1999
Admission Prices & Fees


General Admission for ADULTS
$8.00
General Admission for KIDS
6 - 12
$3.00
General Admission for KIDS
under 6
FREE
Admission fee INCLUDES admission into beautiful Fanning Springs Park.

Two Day Red Belly Fishing Contest
ADULTS
$15.00
KIDS (between 5 - 15)
$5.00
SENIORS
$15.00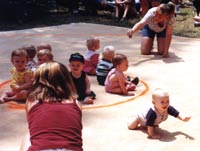 About the Events
This year's rules for the Red Belly Fishing Contest, the Belly Flop Contest and the Melon Chunkin' Contest are found here.


Dunkin' Booth - Dump the local high school principal, football coach, teacher or local politician. 3 balls for $1.00.
Casting Contest - Adults & kids compete for prizes supplied by Wal-Mart by casting at various targets. 3 casts for $1.00
Sack Race - for kids, no entry fee. Prizes: TBA.
Rug Rat Race - non-walking infants placed in circular target area. First baby to make it to the edge wins. Prizes: small trophy & large box of diapers.
Beach Volleyball Contest - Entry fee: TBA. Prizes: Cash plus trophy for 1st and 2nd place teams.
Horseshoe Tournament - contact Suwannee River Moose Club at (352) 463-2838 for more info.
Kids All Day Choo Choo Ride - free after payment of general admission.
Babe Booth - Guess the weight of the baby pig. $0.50 per guess. The prize is the pig!
Pony Rides - price to be determined by vendor.
Raffle - 25 prizes to be given away. $1.00 per ticket.
Coloring Contest - for children enrolled in the Dixie County Elementary School system only. Prizes are ribbons & Personal Pan Pizzas.
What you should bring:

Lawn chair, blanket or beach towels
Sun-screen, hat & sunglasses
Bathing suits
Good Appetite

What not to bring:

Alcohol - prohibited in all State Parks.
Ice chest - private ice coolers are prohibited.
Firearms, weapons, narcotics or fireworks - prohibited by State regulations.
A Bad Attitude
Red Belly Day is sponsored by the Dixie County Chamber of Commerce, a Florida Non-Profit Corporation. Proceeds from the event go to sponsor Christmas in the Park, an event which benefits local under-priviledged children, participation in the Suwannee River Fair and Livestock Show & Sale, and the promotion of ecotourism in Dixie County. The last decennial census for Dixie County showed 12,416 residents. Dixie County is one of the poorer counties in Florida with an average per capita income of $10,344.00. The Dixie County Chamber of Commerce promotes ecotourism in the Suwannee River Basin as a means of promoting jobs and employment for the people of Dixie County.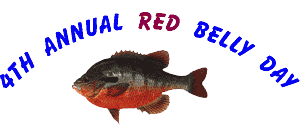 ---
[back to top]
|home|
|more|
|places to go|
|members|
|news|
|red belly day|
|map|
|relocation|